Get live information from the society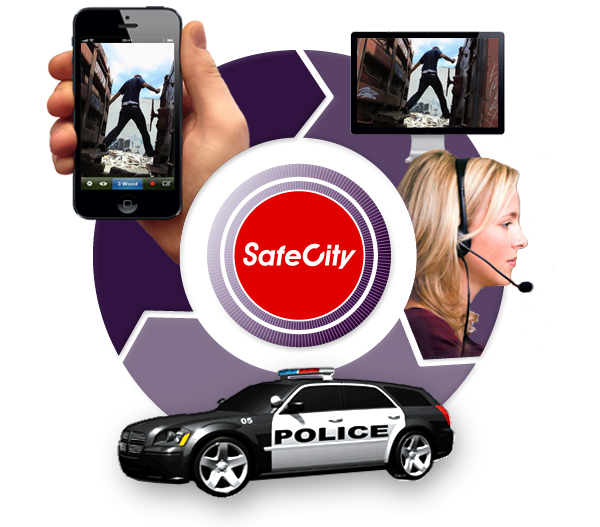 "Citizens are the sensors of safety and security"
SafeCity makes use of the public eyes by using mobile phones and livestreaming video to show what is happening.
A very easy way to collect information about unsafe and inappropriate situations.



Sharing what is going on
Anyone can stream live video from unsafe and uncertain situations such as: junk on the street, crime, drug abuse, terrorist threat, slave labour, misconduct, pickpocketing, neglected animals, child abuse, suspicious behaviour and more!
Broadcasted real-time in the control room
Each direct live in in the control room. Every video contains an important message, the information is real-time and complete with video, sound and GPS location.
Responsibility towards our society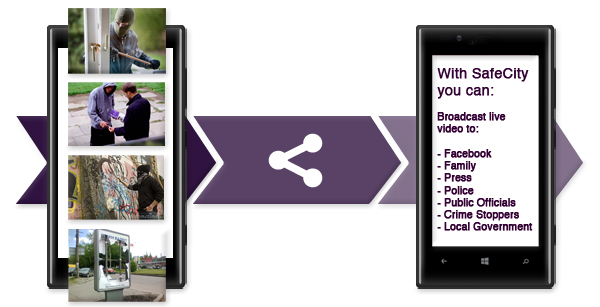 "Make use of many mobile phones and thus thousands of eyes and ears"
Citizens can install a share in a free livestreaming app, to broadcast live video to public officials.
Professionals can work with a dedicated App that makes direct contact with the control room.
Authorities need to know that this is possible
Live streaming video is for many people new or they do not know what it can do for them. Don't be afraid for new technology, thinking that phones do not give a good picture, don't fear a to busy control room. Convince yourself: presentation!
More knowledge and experience
This tool has a lot of opportunities, we ask you to cooperate with us for a safer world on technical, functional and financial aspects. We already proved that this innovative safety concept works, nevertheless more research papers, tests and trials are welcome. The organization Crime Stoppers Anonymous in The Netherlands uses this mobile live video reporting tool.

Working for a more safe and secure society
Proven technology
After years of tests and pilot projects we can speak of a fully-fledged technical system. The whole system is built on proven technology of LiveResponse, Bambuser and Microsoft Azure.
Master study about Live-Streaming-Video
A graduate of the Tilburg University, Frank van Praat, has studied the contribution of live streaming video to make a safer city. In August 2011 he obtained his Master for the department Tilburg Center for Cognition and Communication. Read here his Master Thesis.
Tests and trials
Using live video streaming for the safety of a city was so new that many question came up before the introduction. Three test pilots with SafeCity have been carried out, in:
1. Thebe institute, a home care organization: 20 nurses tested the usages as a security tool when visiting their patients.
2. ROC High school: 120 students tested SafeCity on normal school days. Research intended or they find it useful.
3. Safety department of the city of Tilburg: During one month 50 office employees got the App and could give their criticism.

Contact us for the specific evaluation of these test and trials.
Social Innovation Award 2010
SafeCity is developed by Jan Otten to improve the safety and security in his home town. On December 1st 2010 he received the Social Innovation Award, (jury report in Dutch).
Studies of the behavior and social media endorse the meaning of SafeCity
Read among others.
- The slideshare presentation of Max. St.John
- The scientific article by Stephanie Myers
- Mobile and Crime Deterrence: An Underappreciated Link
- Website about behavior change and technology


This challenge needs your support
Encourage social movement for a safe & sound society!
Company profile
SafeCity BV is a privately held company and based in The Netherlands. We focus on improving safety and security in people's living- and working environment. We manage change in the respect for a good life and motivate people with handsome tools.
Contact details
SafeCity BV
P.O. Box 5019 5004 EA Tilburg The Netherlands
Join our team
Become a dedicated advisor or an ambassador, we need you when you are serious interested, experienced in crime reduction and enthusiastic about SafeCity. At this moment we have representatives in the USA, the Czech Republic and the Netherlands.

The concept of using mobile live streaming video for safety and security in a city raises many questions in the field of privacy, database size, and legal usability. We are glad to assist you with these important questions.


© 2010 - 2017 Copyright, idea, design and trademark rights apply!